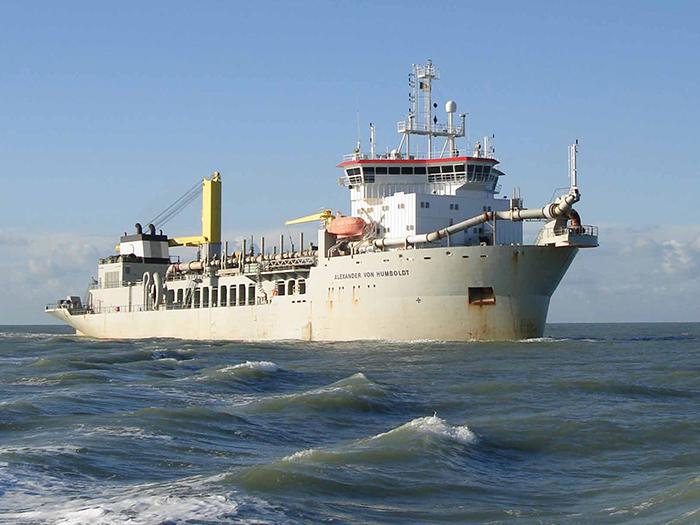 Jan De Nul Group's routing suction receptacle dredge Alexander von Humboldt lately finished 2,000 hrs procedure on 100% eco-friendly, second-generation biofuel oil (BFO).
The Alexander von Humboldt is a twin-screw vessel, with one prop driven by a solitary MALE 12V32/40 engine (MCR 5,250 kW at 750 rpm = typical ranking). The 2nd prop is driven by one MALE 12V32/40 kind (MCR 4,750 kW at 750 rpm) and also one MALE 7L32/40 kind (MCR 2,775 kW at 750 rpm) engine through a twin-in, single-out transmission. Both engine rankings are lowered as these engines additionally drive dredge pumps through power liftoffs (PTOs) at the engine totally free end.
According to Jan De Nul Group, the 2,000-hour landmark notes the lengthiest constant use 100% lasting aquatic biofuel in the maritime market and also shows that BFO awaits usage as a lasting drop-in gas to satisfy market discharges decrease targets.
Patrice Mauger, Head of Region Europe at MALE Energy Solutions, stated: "While our engine technology will remain the prime mover for deep-sea shipping, we have to prepare for the emergence of new fuels, such as BFO, as a supplier to the industry. As such, staying abreast of such developments is paramount to our success. The passing of this notable milestone is testament to the flexibility of our engines and of great credit to Jan De Nul Group whose commitment to decarbonization is exemplary."
IMPRESSIVE 85% CARBON DIOXIDE DECREASE
Leading approximately the 2,000-hour landmark, the Alexander von Humboldt was refueled at different phases with BFO, which apparently lowered the vessel's CARBON DIOXIDE discharges by a substantial 85%. The vessel taken in the biofuel while performing upkeep dredging operates in Flemish ports and also the U.K.
The BFO utilized was presented by GoodFuels in 2018. It was the initial aquatic second-generation, fossil-fuel-equivalent biofuel to be totally stemmed from lasting waste feedstock in accordance with the most recent European renewable-energy instruction.
Michel Deruyck, Head of Energy Department at Jan De Nul Group, stated: "With our choice of this sustainable marine biofuel, we want to prove to the governments and our clients that if they have climate ambitions and incorporate these in the selection procedures, the industry is ready for it. It is very important now that the right policies and regulations follow to leverage the full potential of BFO. Research into fuels of the future is useful, but it should not prevent us from using sustainable solutions already available today for the much-needed energy transition within the shipping industry."