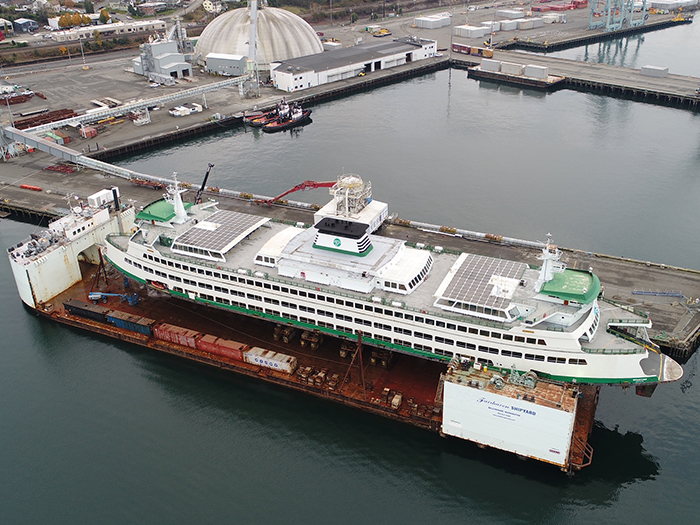 Everett Ship Repair LLC (ESR) has actually released some even more information and also pictures of the job it is carrying out on Washington State Ferries' M/VWenatchee The vessel is a Jumbo Mark II course ferryboat, the biggest in the WSF fleet and also, as we reported previously, ESR's drifting completely dry dock, the Faithful Servant, needed to be relocated to much deeper water within the Port of Everett, Wash., in order to have the ability to ballast down completely to dock the vessel.
The Wenatchee gauges 460 feet by 90 feet with a docking variation of 4,675 LT. The Faithful Servan t has actually gone through renovations to increase its abilities, and also can currently service vessels as much as 460 feet by 100 feet with drafts as much as 32 feet, consisting of all vessels in WSF's fleet.
The docking development began with relocating the Faithful Servant about 500 meters to the deep water docking website within Port of Everett where ballasting and also deballasting occurred to completely dry dock the vessel.
With the ferryboat aboard, the completely dry dock was after that returned to its irreversible area at Pier 3.
The docking procedure was sustained by Dunlap Towing Company and also AUS dive group. ESR's dockmaster, Scott Dixon, took care of the docking cycle, connecting with the Dunlap yank captains and also AUS scuba divers to execute a perfect very first WSF docking by ESR.
The vessel will certainly go through hull and also deck steel substitute while at ESR. It will certainly likewise be blown up and also repainted as needed by the proprietor. Its 8-ton props will certainly be eliminated, checked, and also serviced at Sound Propeller prior to reinstallation.
The period of the task is prepared for to last 7 weeks at which time ESR will certainly undock the vessel and also redeliver it to WSF.