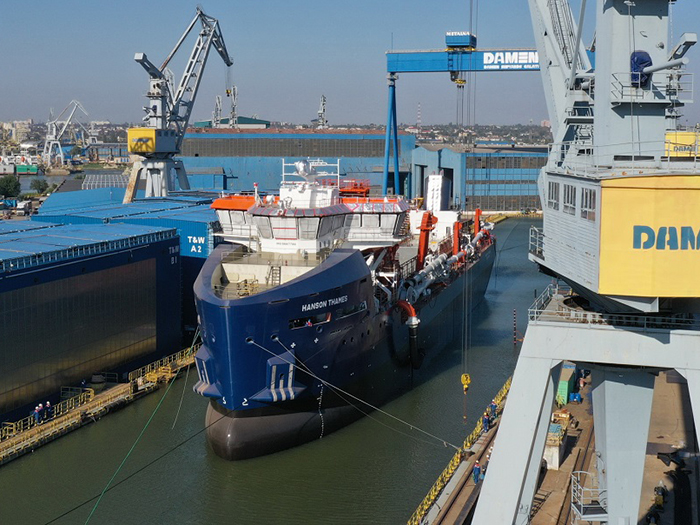 Damen Shipyards Group's Galati, Romania, shipyard has launched a Marine Aggregate Dredge (MAD) 3500 at its Galati yard in Romania. Damen is constructing the MAD for U.Okay.-based Hanson Marine. The firm will use the vessel to conduct offshore mixture extraction in water depths as much as 55 meters within the North Sea and English Channel.
The dredge was efficiently launched, regardless of the affect of the coronavirus pandemic throughout this important stage of manufacturing. To make sure the secure continuity of its enterprise operations all over the world, Damen has taken quite a few measures at its yards and places of work.
"Throughout the pandemic our number one priority has been the safety and wellbeing of our personnel, our co-workers and the communities in which we work," says gross sales supervisor Joppe Neijens. "However, by combining a robust approach to safety measures with coordinated team work, we have been able to continue production. The measures we have taken include strict hygiene and disinfection routines, and the establishment of shift teams to ensure maximum distance between people working, whilst at the same time keeping to schedule. The project team and yard have done a great job. Together they have taken the necessary measures to keep on track with minimal loss of time. In this way, we are able to maintain our support to our clients."
Damen's MAD vary applies modern maritime engineering to make sure secure, snug operations even in antagonistic circumstances. Safety is additional enhanced by the positioning of all dredge pipes above the principle deck. The gear itself is protected by the MAD's enclosed bow.
The MAD 3500 mannequin particularly goals at reaching the optimum steadiness between payload and effectivity throughout the restricted dimensions required for the vessel to traverse the Shoreham Lock on the English south coast.
Following the launch, Damen will full work on the vessel, to be named Hanson Thames, and afterwards undertake commissioning, together with of dredge gear and screening set up from Damen Dredging Equipment within the Netherlands and a dry unloading system from PLM Cranes.