French Navy Frigate Aids Long-Distance Medevac for Injured Seafarer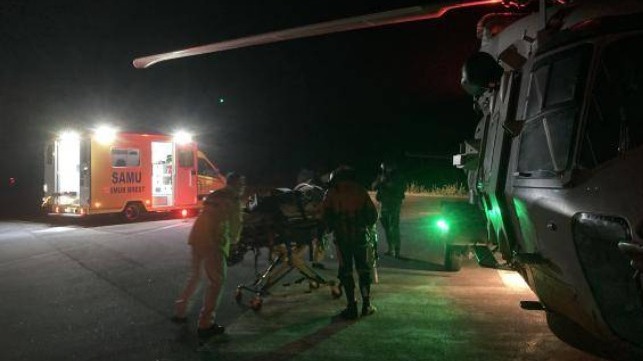 Last week, a French Navy helicopter staff performed a long-distance medevac trip to save a seafarer from a bulker greater than 250 nm southwest of the coastline of Breton.
On Thursday mid-day, Premar Atlantique (France's maritime firm for the Atlantic area) obtained word that a crewmember aboard the mass service provider Agri Queen had actually been wounded after being struck by a wave. At concerning 2045 hrs, the CROSS Etel rescue control facility took command of the situation, and also after a clinical assessment, its watchstanders purchased a helicopter medevac.
CROSS Etel contacted the air possessions of the French Navy, consisting of a Caiman helicopter out of the marine base at Lanv éoc-Poulmic, near Brest, and also a Falcon 50 security airplane out of the Lann-Bihou é marine air base. The helicopter took aboard a specialized rescue clinical group from the Finist ère emergency situation solutions division, and also the Falcon 50 given comms relay and also overwatch.
After greater than a hr of nighttime trip, the staff of the Caiman helicopter arrived at the French Navy frigate Aquitaine to refuel for the long-distance objective. The Falcon 50 continued on terminal over the freight ship. Once refueled, the Caiman staff took off the frigate's fantail and also continued to provide the clinical group to the deck of the Agri Queen, where they organized the hurt seafarer.
At 0245 hrs on Friday early morning, the hurt seafarer and also the clinical group were winched back aboard the helicopter. Less than 2 hrs later on, the sufferer was left at the Cavale Blanche local teaching hospital in Brest for therapy.
Vice-Admiral Olivier Lebas, Maritime Prefect of the Atlantic, stated that the medevac group ought to be praised for finishing a difficult objective with complicated aspects – a far away from coast, evening procedures, a refueling mixed-up and also an effective hoist on the high seas.
After the medevac, the Panama- flagged Agri Queen continued on her industrial trip to Ghent, Belgium.