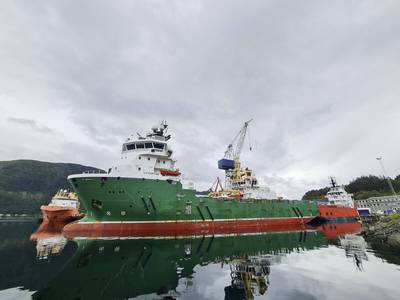 Green Yard Kleven in Norway stated it has actually authorized an agreement with Brazilian shipowner Oceanica to transform 2 system supply vessels (PSV) for procedures with from another location run undersea automobiles (ROV) as well as overseas crane.
The 2 ships, both Marin Teknikk MT6009 style, have actually lately been acquired byOceanica One is currently at Green Yard Kleven, as well as the various other will certainly come to the shipyard in the following couple of days. The retrofit is arranged to be finished towards completion of the year, as well as job will certainly begin right away.
After the conversion, the ships will certainly run in Brazil in deep water. Brazilian Oceanica concentrates on assessment, treatment as well as tracking of undersea frameworks offshore.
"The contract was drawn up in close collaboration with Marin Teknikk AS, and they will now work with design and engineering on the retrofit project. Over the years, the shipyard has built dozens of ships in collaboration with Marin Teknikk, and we appreciate that our good collaboration continues," stated Karl Johan Barstad, Sales Manager Retrofit in Green Yard Kleven.
Green Yard Kleven as well as Oceanica both spend greatly in lasting services. Among various other points, devices will certainly be recycled in the job. For instance, the overseas cranes are previously owned as well as will certainly be restored to the existing spec as well as to the ideal shipment time.
"There are many advantages to rebuilding existing vessels, using recycled material, and reusing equipment for the conversions. This will save resources and reduce both costs, emissions, and the amount of waste. Without compromising quality," Barstad stated.
"Securing this contract gave us a nice and happy start after the holidays, says Hans Jørgen Fedog, CEO of Green Yard Kleven. "This was great information. The task boosts our order get, although we still have the ability to handle even more tasks. We are thankful for the count on as well as the task as well as we anticipate the partnership with all companions included."