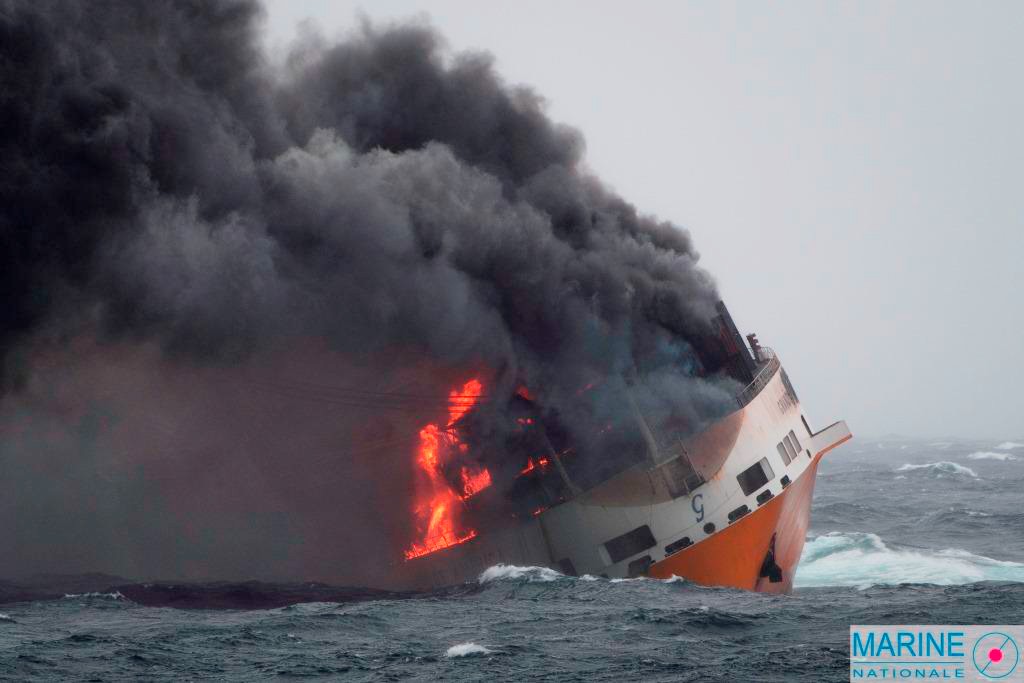 56,642 gt Grimaldi Group ConRo that reported a cargo fire on the evening of March 10 sank yesterday.
The 1997-built, Italian flag Grande America was in the Bay of Biscay, about 142 miles south of Pointe de Penmarc'h, when French authorities were informed of the incident. A crew of 26 people plus one passenger were aboard.
The French Regional Operational Monitoring and Rescue Center (CROSS) responded, with the British frigate HMS Argyll diverting to the scene.
Shortly before midnight March 10, the ship's master reported that the situation on board had deteriorated and that the fire, which had initially been controlled, was spreading with several containers on fire.
France's Maritime Prefecture of the Atlantic ordered the Abeille Bourbon RIAS (Intervention, Assistance and Rescue Tug) to the scene. The tugboat had earlier pre-positioned in the region in anticipation of degraded weather conditions.
Shortly after 2 a.m. on March 11, the master decided that all aboard should abandon the ship in a single lifeboat. They were subsequently recovered, all safe and sound, by HMS Argyll.
Although Abeille Bourbon continued firefighting efforts into the next day, they were abandoned as the ship had taken on an extreme list and spraying water on the vessel could have contributed to making this worse.
At 3.26 p.m, the Grande America sank in 4,600 m of water