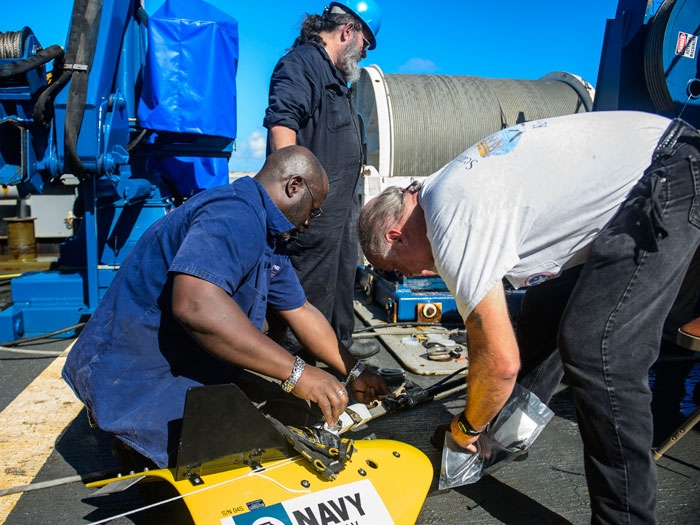 The 2nd phase of the search will certainly currently begin, trying to locate the vessel making use of side check finder.
The USNS Apache got to the last well-known placement of the El Faro on October 23, and also started looking for the vessel with a Towed Pinger Locator (TPL).
The search location includes a 10 maritime mile by 15 maritime mile location, in which the USNS Apache hauled the TPL on 5 search lines throughout the search location in order to spot the acoustic signal connected with the El Faro's pinger.
The USNS Apache wrapped up the initial stage of the pinger locator search on October 26, 2015, with adverse outcomes.
The NTSB claims that the TPL's capability to spot the El Faro's pinger might be impacted by the alignment of the vessel as it lays on the sea flooring or the present problem and also capability of the pinger.
The 2nd stage of the search started the other day, making use of the Orion side-scan finder system. The 2nd stage of the search will certainly be carried out over the exact same search location. This stage will certainly include 13 search tracks and also will certainly take around 2 week to finish. The side check finder system will certainly be made use of to situate the El Faro, and also if discovered, develop a photo of the vessel.
If the ship is discovered on the sea flooring, its Voyage Data Recorder or "black box" can be fetched to assist detectives figure out the El Faro's last minutes. It is thought that the ship sank in Hurricane Joaquin on October 1 and also is resting on the sea base in 15,000 feet of water near the Crooked Islands in theBahamas All 33 onboard are assumed shed.
OCTOBER 28, 2015– The National Transportation Safety Board stated the other day that searchers aboard the Navy fleet sea pull USNS Apache (T-ATF 172) had actually fallen short to situate the pinger of the shed U.S.-flag containership El Faro.