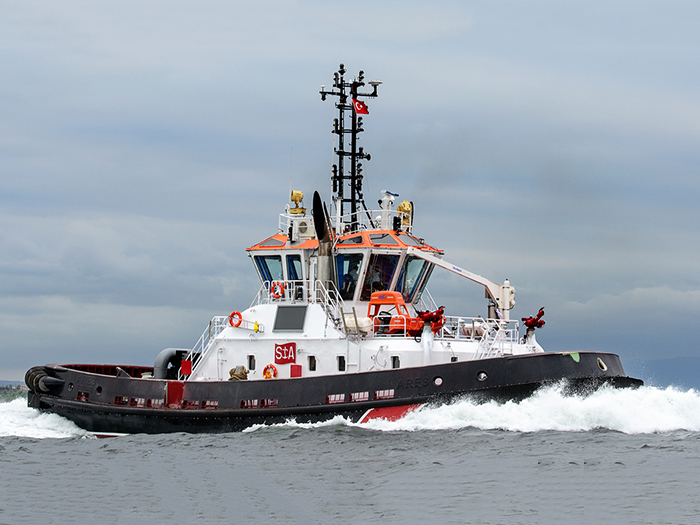 Turkey's Sanmar Shipyards is currently building the third vessel in its VectRA 3000 tractor tug series.
Designed exclusively for Sanmar by Robert Allan Ltd., in close collaboration with the shipbuilder and Voith Turbo Propulsion, the VectRA 3000 Class Tug is a high performance VSP Tractor tug delivering maximum efficiency in the performance of towing, harbour shiphandling and escorting of large ships.
Central to the design is the proven Voith Schneider Propeller (VSP) whose high reliability and performance have already been demonstated on the other two tugs in the series.
"The outstanding efficiency of the Voith Schneider Propeller minimizes performance requirements and thus reduces fuel consumption while maximizing safety for the ship and the environment," notes Ali Gurun, vice president at Sanmar.
Propulsion for the tractor tugs in this series is provided by VSP type 32RV5 EC/265-2 units with a drive power of 2,525 kW each. The propulsion system is powered by two Caterpillar 3516C high-speed diesel engines connected to the Voith units via reduction gearboxes with integral clutches. Each engine develops 2,525 kW at 1,800 rpm. With the Voith Electronic Control system incorporated on the tugs, the captain is able to clutch-off thrusters at idle. This enables further fuel savings.
The vessel is equipped with heavy duty deck equipment and fendering, appropriate to ship assist service. Towing and ship-handling is performed over the stern using a high-performance, split drum winch. Tow hooks are also installed on the aft and forward decks. The vessel hull is constructed of all-welded mild steel, in a double chine form, the deckhouse and wheelhouse are also fabricated in steel.
VectRA series tugs are high-performance VSP tugs in tractor configuration (Voith Water Tractors), designed for maximum efficiency. With a bollard pull of 70 tonnes, the design has fire-fighting and oil recovery capabilities and is fully MLC compliant.