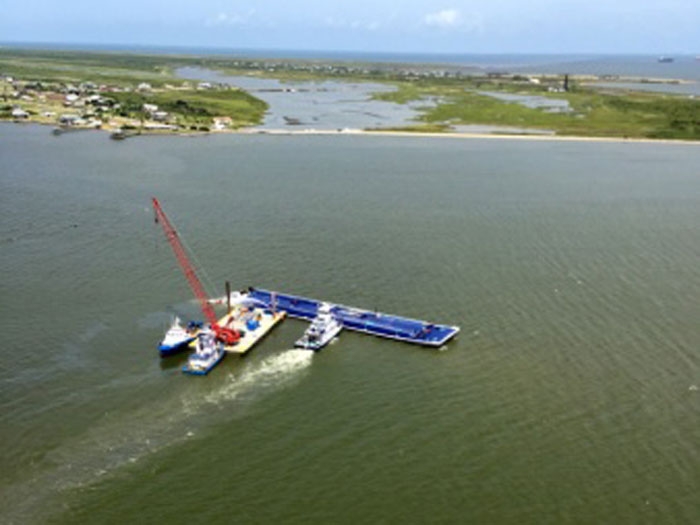 AUGUST 7, 2015–Two packed naphtha barges under tow just recently rammed 2 cumene intrude the active Gulf Intracoastal Waterway along the Bolivar Peninsula, Texas, near the Houston Ship Channel, stimulating a fire onboard among the naphtha barges.
Operating under its OPA 90 Salvage as well as Marine Firefighting contract, T&T Salvage reacted to the case, which happened on July 20 at regarding 1:20 AM. On- scene in much less than 2 hrs with a full-suite of company-owned commercial firefighting tools as well as a skilled aquatic firefighting staff, T&T Salvage extinguishd the fire on the barge making use of Pyrocool, a fire snuffing out foam, in much less than a hr after showing up on-site.The barge was lugging regarding 1 million gallons of naphtha, an extremely unstable fuel additive.
After air conditioning as well as supporting the harmed barge, both naphtha barges were pulled to a secure area as well as the freight was securely moved to getting barges to avoid any kind of ecological influence making use of T&T's mobile hydraulic pump systems.
Responding to splash in South Louisiana
As T&T Salvage was finishing this effective firefighting as well as salvage procedure, it was contacted to perform an in-situ melt of an oil spill brought on by a pipe tear in South Louisiana.In- situ burning of oil spills can be much more reliable than conventional mechanical oil recuperation approaches, decreasing long-lasting ecological influences to delicate marshes as well as marshes. T&T Salvage additionally efficiently finished an in-situ melt in 2014 at the Delta National Wildlife Refuge that was commended by the UNITED STATECoast Guard Working within a Unified Command led by the Coast Guard once more this year, T&T Salvage firemans securely sparked the oil spill as well as offered backup fire reductions solutions to make certain an additional risk-free as well as reliable feedback procedure.
Another instance of T&T's quick feedback ability was available in the very early hrs of May 22, 2015 when T&T was turned on to reply to a fire on a Gulf ofMexico Platform T&T rapidly set in motion workers as well as tools to a Louisiana dock where it was filled on a rapid supply vessel as well as moved to the scene. The possessions were after that moved to a lift watercraft as well as the fire group continued to cool down the surrounding locations as well as snuff out the fire later on that night. Once snuffed out the group boarded the system as well as verified it was risk-free for boarding.
Jim Elliott, Vice President of T&T Salvage, states, "We consistently strive to be the fastest, safest and best in marine emergency response operations.  These recent firefighting responses are a testament of T&T's ability to quickly respond to a major marine casualty and effectively save property, protect the environment and prevent crew injuries."