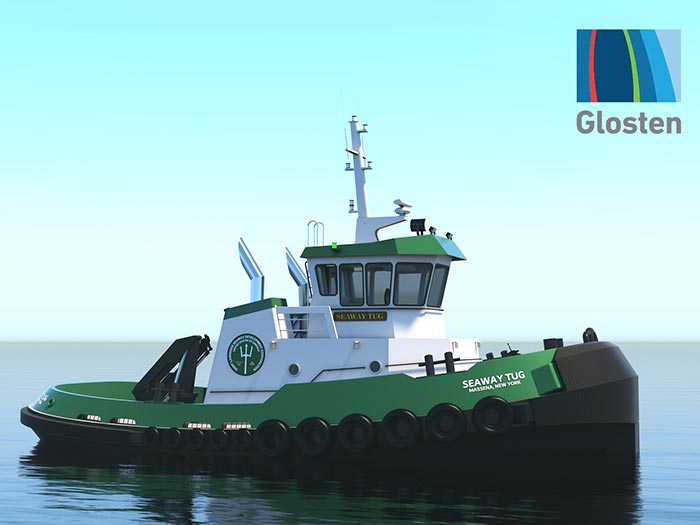 The Saint Lawrence Seaway Development Corporation (SLSDC) has actually granted an agreement for the building of a brand-new ASD (Z-drive) nurture pull to shipbuilder Washburn & & Doughty Associates,Inc ofEast Boothbay, Maine.
The HT-60, the tiniest in the harbor pull collection established by Seattle based marine style company Glosten, is slated for shipment in 2021.
"This new vessel will be used to carry out a variety of construction and maintenance duties for the U.S. portion of the St. Lawrence Seaway, including routine maintenance of lock gates, maintenance and positioning of aids to navigation, ice management, and removal of accumulated ice from lock walls," claimed Craig Middlebrook, Deputy Administrator of the SLSDC.
The Glosten HT-60 is made to take advantage of the operating benefits managed by a wide bow type with a semi-raised forecastle deck as well as complete exposure as well as winch controls from a solitary operating terminal in the pilothouse.
To do its designated job features in ice, the hull has actually been ice-strengthened to ABDOMINAL MUSCLE Ice Class C0 criteria. The Z-drive systems are powered by a set of EPA Tier 3 diesel motor transforming carbon fiber shafts as well as supplying a mixed 1,320 bhp at 1,800 rpm. At 60 feet in general size, the pull is right-sized for navigating inside lock chambers, with a broad 28 feet light beam to enhance efficiency in ice as well as improve security for deck crane procedures.
"Washburn & Doughty is proud to be selected by SLSDC to build its new Z-drive tug. We look forward to working with both SLSDC and Glosten on this exciting design," claimed Katie Doughty Maddox, President of Washburn & & Doughty.