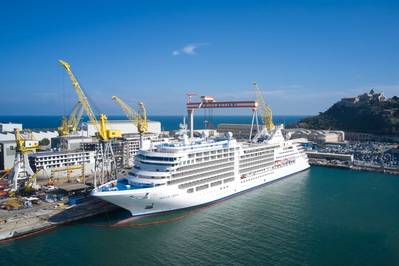 Fincantieri shares dropped as high as 6.5% on Thursday on the possibility of a huge resources rise by the Italian shipbuilder as it attempts to deal with the coronavirus dilemma which has actually struck its consumers in the cruise ship sector
Bloomberg News reported late on Wednesday the state-owned company, which has a market capitalization of regarding 1 billion euros, was taking into consideration a funding rise of as much as 1.5 billion euros ($ 1.8 billion).
A representative for Fincantieri stated no choice had actually yet been handled different choices for 'extraordinary transactions' which were being reviewed. An individual accustomed to the issue validated a brand-new share problem was among the opportunities.
At 1046 GMT the shares were down 5.69% at 0.56 euros each, contributing to a late 5.95% decrease the previous day. Italy's all-share index was up 0.5%.
Fincantieri has actually concurred with customers a post ponement of some cruise liner distributions in current months to stay clear of terminating formerly gotten orders as an outcome of the influence of the coronavirus episode on the cruise ship sector.
To weather condition the problems Fincantieri obtained 1.15 billion euros from a team of financial institutions touching a warranty given by the state as component of emergency situation actions versus the pandemic.
Net financial obligation leapt to 1.425 billion euros at the end of September from 0.736 billion euros at the end of in 2015.
Some experts increased questions regarding the dimension of the possible resources rise offered it would certainly be bigger than the present team market capitalization.
"We do not view an equity issue, especially for the size mentioned by the press, as realistic," Intesa Sanpaolo experts stated in their everyday record.
Analysts at Banca Akros stated that while "the suggestion of a big capital increase is realistic … we argue that the dilution would be massive".
Italy's state loan provider Cassa Depositi e Prestiti has 71% of Fincantieri.
($ 1 = 0.8180 euros)
(Reporting by Elisa Anzolin as well as Agnieszka Flak; Editing by Elaine Hardcastle)